---
BrerRabbit - 3/16/2017 at 04:04 PM

Hendrix Band of Gypsies first show Fillmore East 12/31/69. Not sure if this was mentioned here, released September last year. 13 tracks unreleased - sounds great. Since it is the debut of an unrehearsed group, they are way out on the thin ice. Hendrix jams like a crazy rough diamond.

Easy to overlook this one and assume you already heard it.








[Edited on 3/16/2017 by BrerRabbit]
---
Fretsman - 3/16/2017 at 09:25 PM

That 1st single disc offering still stands the test of time as one of the greatest live albums ever. I've got the newer double discs with bonus tracks and alternate performances, Some of the banter was cool. It's right there with LATFE. The anniversary releases by the ABB with bonus tracks and alternates is cool too, but the originals were sweet.

Message To Love.
---
heineken515 - 3/17/2017 at 12:51 PM

Right, I have this, so - dangit, more Hendrix to buy :




Also these two are superb in my opinion:


---
nebish - 3/18/2017 at 05:54 AM

I do not have that, I need to get it.

My favorite Hendrix is Band of Gypsies!!!
---
lovelight - 3/18/2017 at 03:55 PM

I was in the second row at that first show. Mesmerizing!
---
bird72 - 3/18/2017 at 03:57 PM

I only have two prerecorded reel to reel releases and Gypsies is one of them. It is the desirable 7 1/2" IPS. It is sonically one of the best recordings I have of all analog, vinyl included. It is thunderous and incredibly dynamic. Did a CD / Vinyl / tape A/B/C comparison once since it astounded me so much. Played LOUD, thru big speakers is an "experience"......... but as said, a great recording of Jimi toward the end. Buddy Miles is a trip on it.
---
BrerRabbit - 3/18/2017 at 04:14 PM

Last two posts - wow. Will try not to remember them as I try to eke out the source from my digital illusion.

How old are those reels? Maybe transfer time, even one gen removed it will still blow away anything else.
---
bird72 - 3/18/2017 at 07:25 PM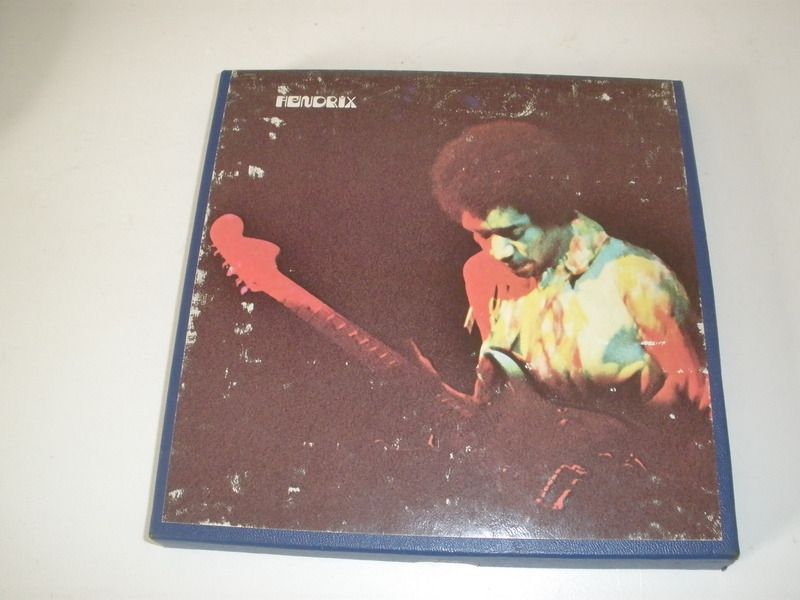 .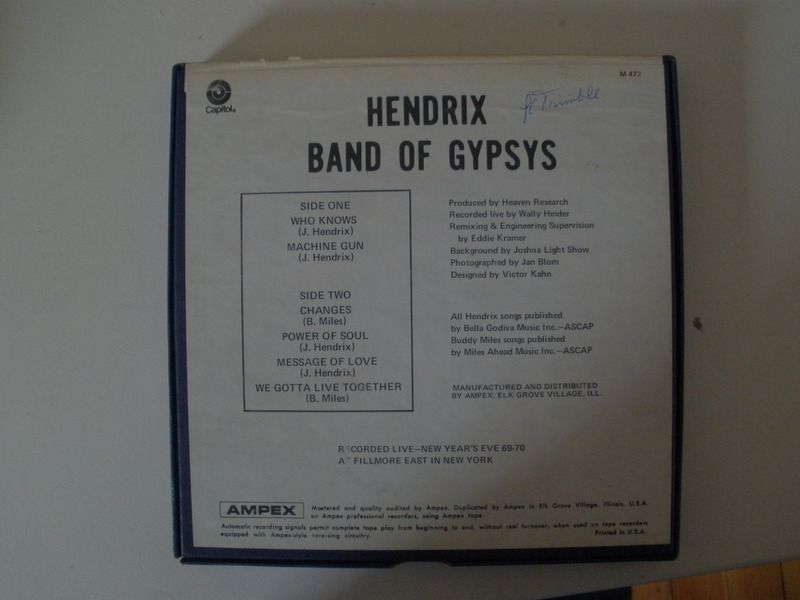 .


It was stored well, tape is in great shape. A lucky find for $20.....
---
heineken515 - 5/12/2017 at 02:23 PM

Just received this disc, 12/31/69 - can't wait to give it a listen.
---
dadof2 - 5/12/2017 at 02:35 PM

Just ordered this....thanks much for recommending...I'm looking forward to blasting this on my stereo...
---
heineken515 - 5/12/2017 at 02:43 PM
quote:

---

I was in the second row at that first show. Mesmerizing!

---


I guess I am just seeing this - wow !

How cool is that :

A. to have been there
B. to recall it, ha

Some, well most of you all seem to have WAY better recollection of shows you've been to than me.
---
dadof2 - 5/24/2017 at 03:53 PM

listening to this now-excellent & superb sound---thanks for recommending.
---
GOODVIBRATIONS - 5/24/2017 at 07:35 PM

I was fortunate enough to be at that show.Machine Gun was mesmerizing- I had never heard anything like it!
---
RobJohnson - 5/24/2017 at 10:17 PM

Those shows really are amazing, especially when you consider how they exist in a vacuum. It's not just that it's the best Band of Gypsys album....it's the ONLY Band Of Gypsys album. When you think about how powerful that album is, it just doesn't seem possible.

But it's true. There are no Band Of Gypsys studio albums. That band only played, what, 10 shows? By April of 1970, only 4 months after that remarkable NYE run, Mitch Mitchell was back in the band and Jimi had moved on to a whole new set of material.

In the grand scheme of Jimi's career, the Band Of Gypsys was just a brief blip, but what a blip it was!
---